Royal Opera of Versailles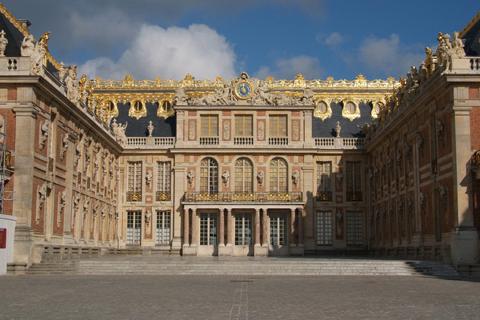 Duration: 2 Minutes
Location: Paris, ----------- select -----------
Book Now
Dreamed and planned by louis XIV, the magnificent Royal Opera of Versailles was finally built by louis XV and inaugurated for the Marriage of The dauphin's and the Archiduchess Marie Antoinette . First Opera was Persée by Quinault and Lully.
Paris offer so many cultural event that is often hard to choose . But it would be a pity to come to Paris and not take advantage of discover french baroque Music where Marie Antoinette wedding took place.
Compare to Opera Garnier or Bastille Opera, the intimate of the place let you feel very near of some artists like Roberto Alagna, Philippe Jaroussky,Véronique Gens, Karine Deshayes and Director like Christophe Rousset, Marc Minkowsky.
This season celebrate the 300th anniversary of Louis XIV's death and the Palace of Versailles will be hosting a range of operas, concerts and ballets in exceptional settings: The Royal Opera, the Hall of Mirrors, the Royal Chapel, the Hercules salon and the Orangerie.
Two themes celebrates the music of his reign and the one composed for the funerals of kings.
This autumn, Sir John Eliot Gardiner will give 6 exceptional concerts for his "Voyage d'automne à Versailles".
In February, Raphaël Pichon will celebrates the 10th anniversary of his ensemble "Pygmalion" by recreating Orfeo by Rossi, the first opera played in France.
This season, William Christie and the "Arts Florissants" will present three programmes illustrating the prettiest aspects of its talent.
Included
Round trip from your hotel to Versailles
tickets for the show
A glass of Champagne
Calendar
nov-09Rameau : Zoroastre | Opéra Royal - Officiel
nov-18Le Vœu de Louis XIII | Chapelle Royale - Officiel
nov-19Purcell : Didon et Enée | Opéra Royal - Officiel
nov-19Purcell : Didon et Enée | Opéra Royal - Officiel
nov-24Un Opéra pour trois Rois | Opéra Royal - Officiel
nov-25Henry Dumont : O Mysterium | Chapelle Royale - Officiel
nov-26Vivaldi : Splendeurs Vénitiennes | Chapelle Royale - Officiel
nov-29Preljocaj : la Fresque, l'Extraordinaire Aventure | Opéra Royal
déc-03Porpora : Il Trionfo della Divina Giustizia | Opéra Royal
déc-08Purcell : King Arthur | Opéra Royal
déc-10Bach : Magnificat | Chapelle Royale
déc-11Haendel : Le Messie / Chapelle Royale du Château de Versailles
déc-14Charpentier : Histoires Sacrées / Chapelle Royale
déc-15Vivaldi : Le Quattro Stagioni / Opéra Royal